Samvad News Agency, Parwanoo (Solan)
Published by: Arvind Thakur
Updated Mon, 20 Jun 2022 04:51 PM IST
Expansion
11 people are trapped due to a technical fault in the ropeway at the TTR Hotel in Parwanoo, the gateway of Himachal. Police and fire brigade teams are trying to evacuate people on the spot. It is being told that the incident happened around 1:45. When tourists were coming towards Parwanoo from Hotel Moksha by cable car, suddenly the trolley got stuck in the middle.
Due to this the breath of 11 people sitting in the trolley got stuck in the air. It is being told that four people including the woman have been taken out while the team is trying to get the others out. At the same time, ASP Solan Ashok Verma told that the police team has reached the spot. Talking to Kasauli Air Force. Soon people will be evacuated.
CM Jairam leaves for the spot

Chief Minister Jai Ram Thakur gave information by tweeting. He said that the rescue operation of the tourists trapped in the Parwanoo Timber Trail of Solan is going on. As soon as I get information about the incident, I myself am going to the spot. Administration is on the spot. With the help of NDRF and administration, all the passengers will be safely rescued soon.
Incident happened in 1992 too

On 13 October 1992, there was an accident in Parwanoo Timbal Trail. Only the car carrying 10 passengers suddenly broke down and all the people were hanging in the air at a height of 1300 feet. Rescue operation was carried out for two days from Mi-17 helicopter. Colonel Ivan Joseph Cresto (Retd) was given the command of this rescue operation. He saved the lives of all the passengers. He was awarded the Kirti Chakra for the Timber Trail Rescue operation. Even today many officers narrate tales of his bravery.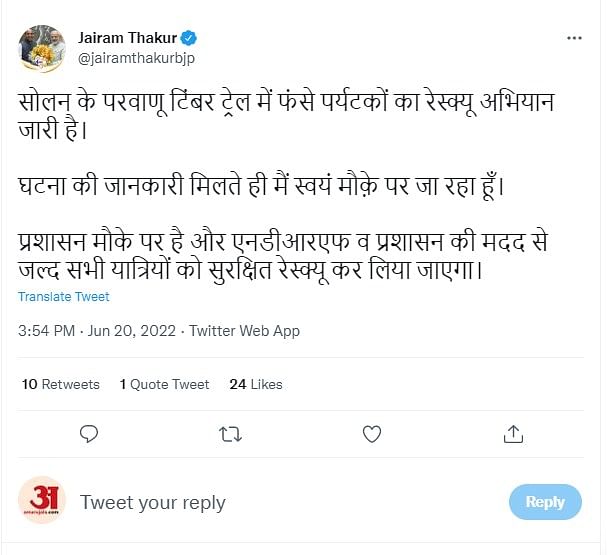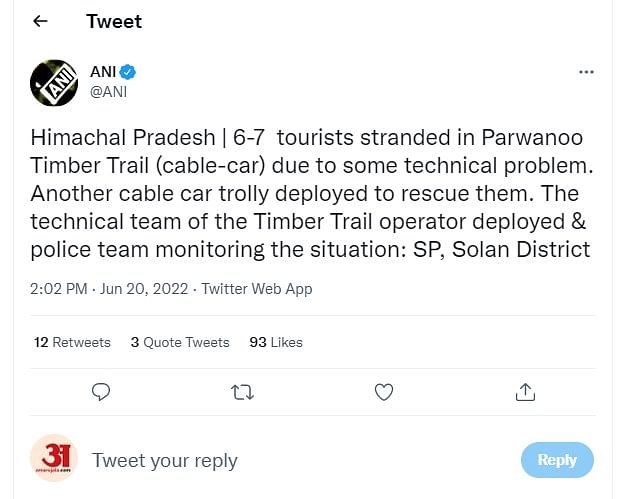 ,